JAVIER SANTOS, Ph.D., SCPM
Chief Executive Consultant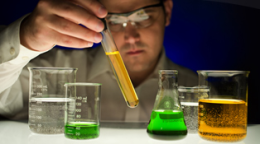 Expert in Advanced Organic Chemistry, Strategic Project Management, Patent Prior Art Research, and Proposal Preparation.
Dr. Santos has extensive experience in design and synthesis of advanced organic and polymeric materials, strategic project management, patent prior art research, and proposal preparation. His scientific experience include areas of nanotechnology, photo-responsive materials, highly thermally stable materials, self assembly materials, and molecular electronic materials. For over 10 years, Dr. Santos worked for Ohio Aerospace Institute at NASA Glenn Research Center where he led the design, synthesis, characterization, and evaluation of fluorescent materials for molecular sensor applications. Other research projects include materials for lithium-polymer batteries, photovoltaics, and liquid crystal display.
---
Consulting and Solutions Services
General Overview
SCIENTIFIC

» Molecular Engineering
» Synthetic Procedures
» Purification
» Molecular Structure Determination
» Photophysical Characterization
» Molecular Sensor Evaluation

Literature Research and Analysis

STRATEGIC PROJECT MANAGEMENT

Strategic project management for scientific projects and programs

» Managing Teams
» Planning and Implementation
» Maximizing Productivity
» Logistic of Project Work
» Management of Portfolio

PATENT PRIOR ART RESEARCH

Scientific advisor for litigation teams regarding the technical aspects of patent cases, analyzing patent documents and disclosures.

» State-of-the-Art Studies
» Landscape Studies
» Literature Search and Analysis
» Opinion on Technical Facts

PROPOSAL PREPARATION & ASSISTANCE

» Organization of the Core Team
» Planning the Strategy
» Managing the Proposal Writing
» Competition Analysis
» Proposal Submission

Also, second opinion and evaluation of proposals is available.
CHEMISTRY INFORMATION CENTER
This section provides instant access to helpful scientific information.
Click here